Early light in the Yorkshire Wolds (Edited to add the Trannies)
25/10/2009
Great light first thing this morning...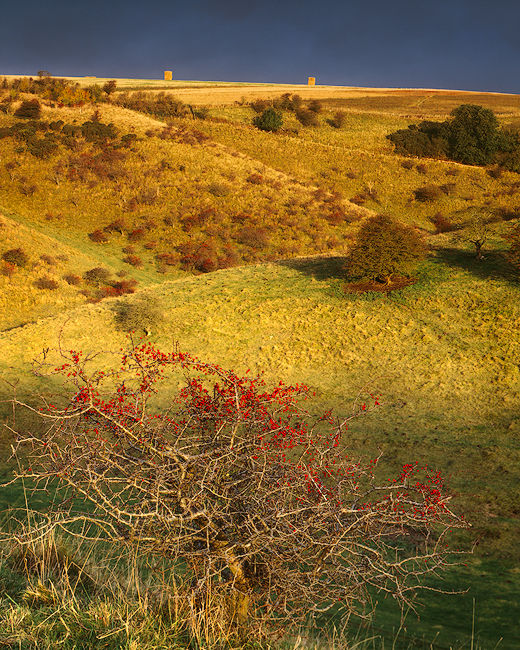 I got out again in the Yorkshire Wolds this morning with Paul Moon. We got very lucky with some superb light first thing and I think I am beginning to really appreciate how good the wolds can be in the right light.
Working in Millington Pastures, I made the above image on Large Format;
[Edit: I have swapped the G10 image with the large format image. The storm in the background is even more prominent in the Large Format version, it had mostly moved through when I made the G10 shot, and Provia has worked.
The light really was stunning. ]
I setup for a second image further round, but the light went, pretty much for the whole morning.
We revisited the valley with the plantation we had found a few weeks back and I made a large format image, though in a spot with not such good colouring as Paul is snapping here.
I'll save up the image for when the film comes back. [Edit: This image is back as well and here it is:
I like the shape of the trees in this image and I used a grad to dampen down the light of the grasses which I think has also worked well. ]
I also snapped an image of this tree, in the pouring rain, which I may get back to if and when it has got some better colouring. Unfortunately I didn't setup the LF.
I will send off the film today just to make sure I have got no recurrence of the light leak problem that plagued me a couple of weeks ago. I have made a couple of tweaks to my workflow to minimise the likelihood - it would be a disaster if I lose more pictures as I have two Lakes Trips lined up for the next few weeks.