Thorganby
18/12/2009
A trip (well walk) to the local pub
Its not everyday you get to make an image at your local pub.
This image started last summer when I was enjoying a rather excellent real ale at our local pub in my home village of Thorganby - the Ferry Boat Inn. Sitting out in the Garden I noticed a magnificent willow tree on the banks of the river. It struck me that it would make a magnificent photographic subject but stored the information away in the back of my head for another day - I doubt I would have focused the LF camera particularly well at that moment!
I got an opportunity one afternoon last weekend to give it a go. With the Ings in full flood at the moment, the River Derwent is very high and as a result the willow trees are actually under water. I arrived an hour or so before sundown and got chance to make the above image and an even more abstract second imgage.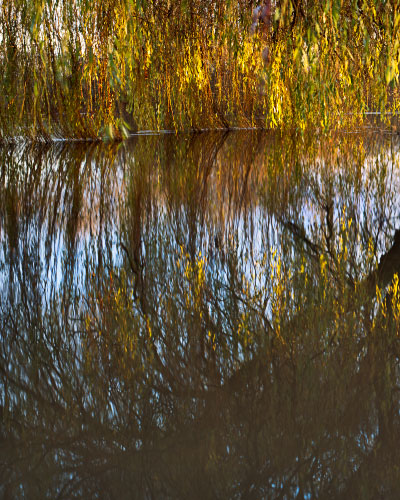 As an aside, both images were made on Provia but I also shot versions on Velvia which appear to have a dreadful colour cast (and no blue sky). There is something odd going on with how the new velvia reacts to certain direct light (possibly the orange of sunet). I have starting to favour provia so much in these conditions that I suspect I shall get to the point shortly where I rarely expose Velvia in anything other than low contrast, flat lighting.