Peak District Scouting
17/01/2010
A trip out to scout the Peak District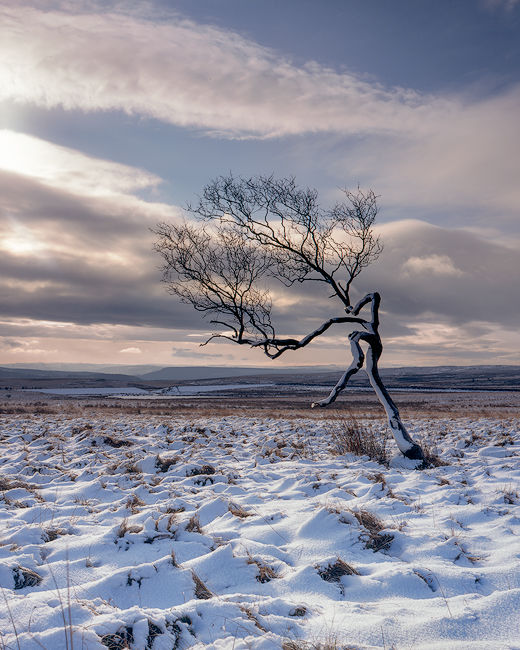 I have a fear of photographing in places or areas I don't know. Well maybe it is not quite a phobia but it does sometimes lead to some slightly irrational behaviour.
The rest of my family had packed themselves off to Grandparents in Kenilworth whilst I was home alone on my last legs with whatever virus it was I had picked up during the Christmas period. Men do this best. Anyway by New Year I was feeling just about well enough to travel again so I drove down to rejoin them for New Years eve. As I was driving down from York I decided to detour and take a quick look at the Peak District as I have plans for a photography weekend with Julian Ashley in late January.
We are planning to stay in the Castleton/Hathersage area and never having visited the Peaks before I decided to drive over from Sheffield to Castleton and then on up to Mam Tor. I figured that climbing up a hill that overlooks the whole valley I was photographing would at least give me a feel for the place. There was a fair degree of snow and it was a good opportunity to test out the capabilities of my Land Rover. It dealt with the conditions admirably.
The valley was beautiful but despite the snow there seemed to be more people around than Ambleside on a bank holiday weekend. Is it always that busy? Anyway, I tore up the Tor without my LF gear armed only with my G10 and realised my mistake almost immediately. The view and light was stunning.
I don't know if it was the numbers of people or what but I didn't bother to pop back to the car and pick up my gear. A bit daft really because the light was lovely. I bet its thirty years before I get back there in similar light and conditions. Ah well.
Anyway I ended up detouring nearly 100 miles on my way to Kenilworth as I wound my way down via Stoke (don't ask me why) towards the Midlands. Its the first time I've really paid attention to that area and it is certainly quite beautiful.
So on New Years Day I decided to visit and scout out Stannage Edge on my way back home. It is a possible sunset location for us.
As I was driving over from the M1 I noticed a bizzare looking tree and I had to pull up (rather gently I might add in the snow!). I did a 360 turn and went back up the road to investigate.
I made the main image at the top on Provia and I am rather pleased with the exposure which was about as tricky as I can remember handling. I waited about 25 minutes in the freezing cold for the clouds to get into the right configuration and for the foreground to light up.
Julian Barkway tells me this is apparently a well know celebrity tree amongst Peak District photographers. Being well out of my normal patch I was of course ignorant of that and so much the better. I simply enjoyed photographing it without any of the baggage that might otherwise have come with being there.
There was a slight drawback though, I ran out of provia. I had not planned to be taking images and had only put the LF gear in the car at the last minute.
So by the time I arrived at Stannage Edge I was armed with Velvia only. The snow was fanstastic. I kitted up and walked over towards the edge. I ended up making three compositions. My main and final composition at sunset was a case of almost but not quite from a lighting point of view. It also revealed some issues with my 3 stop grad colouring my images brown around the transition. Tim Parkin taught me a neat trick to scan the grad, sample the colour around the transition and apply a filter in photoshop to remove the offending colour. Very neat. However the issues with the lighting remain. I did shoot one with the foreground lit (which I though was the one) but it was windy and it suffers from bad camera shake (thanks I presume to the quickload flap.)
Here it is:
Maybe I will get chance to improve it next weekend.
The first composition was this one: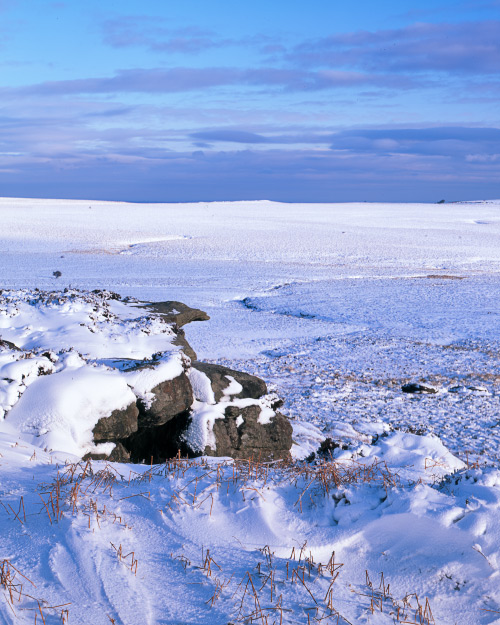 I liked the openness of the moorland and as there were clouds coming through at intervals I decided to try out something that emphasised that openness. I made three images and all are tonally balanced completely differently as the cloud covers different part of the image. They make an interesting study in how much tonal balance can influence an image. I preferred this one.
I then setup an image looking up at the rock tower that I think in retrospect I might do better another time. Velvia was so the wrong film and I should have done better with those snow covered boulders. Work in progress I think.
The light on the background of my main image went so I packed up. The light on Stannage itself was superb in the last 20 minutes or so but for some reason I didn't really feel motivated to be setup so I simply watched the sun go down on the valley I would be photographing in a few weeks time. That was enough for me.
All in all a scouting trip and most of the images were first efforts rather than anything lasting, but I hadn't expected anything else. I can't wait to photograph there now.