Winter 2010 at Glencoe - Monday and Tuesday
22/02/2010
The Monday and Tuesday of my recent trip to Glencoe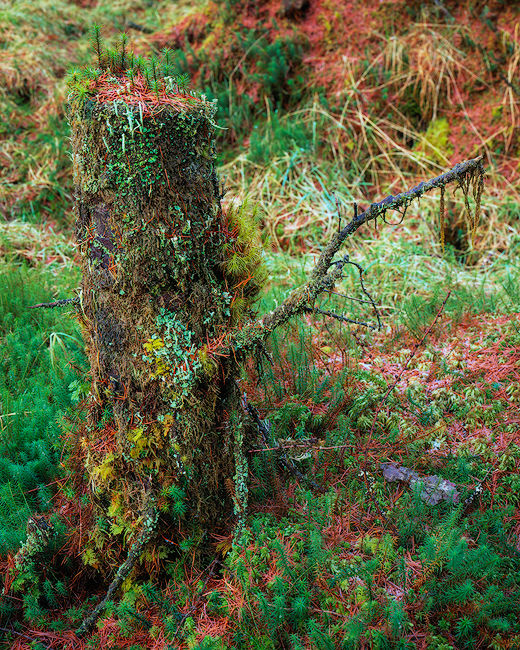 I photographed this mossey version of a 'Darlek' (or Ewok?) at the end of Tuesday. I love the strong colours and the soft, subtle mosses.
Monday 1st February
The weather forecast by the Monday morning was beginning to get interesting, with a front due to arrive at some point during the early afternoon bringing some fresh snow. A quick look out pre dawn showed very little in the way of stars and convinced Dave and I to go straight into breakfast and maximise the photographic potential of the morning. Phil, who was getting back into the Large Format grove, decided to head out for the moor to try out a dawn.
Dave and I set off for Etive after an early breakfast and (predictably) worked an area we know well around the deer enclosure. However initially it was an interesting fern rather than the river that caught my attention and after a scouting out the area for a short while I returned to make this image.
This idea first occurred to me a few weeks ago when I was working Skipwith, noticing similar wonderful colour in the snow, but there I couldn't quite find what I was looking for to pull it off. I like colour in the fern and the fine sprinkling of snow.
Turning my attention to the river I looked for an image using some of the fantastic ice in the river but I couldn't find anything that satisfied me. I ended up trying out an image of a wall of ice on the far side of the river that I wasn't really convinced about and was fairly close to something I had tried a year ago and once again it didn't really work. By this stage the weather was beginning to close in so we started to head back towards the hotel. We passed Joe, David and Phil on route each working a slightly different stretch of the river.
However as we drove back we noticed a bend in the river that we had first worked about 4 years ago where ice patterns were beginning to form and after investigating I ended up making this image just before the snow started:
I have been getting increasingly interested in formal geometric abstract shapes and patterns in the natural landscape and this was quite fun to make. I like the idea.
By this stage the snow had definitely started to come in and we all found ourselves back at the hotel.
Tuesday 2nd February
The following day, Tuesday, was one of those memorable days that you rarely get in the winter in Scotland but when you do they are to be savoured. Overnight there had been a lovely covering of snow on the moor and the front was just starting to clear through. Once again, breakfast was taken early and everyone, bar Joe, set out for the top of Glen Etive. Joe had a commission he needed to fulfil up near the Isle of skye and had been wondering which day to drive up and shoot it. He ended up deciding to get it out the way and setoff before dawn to make the image.
As the front cleared through the lighting and conditions were superb. Unfortunately, the image I made up to Stob a Ghlais Choire was spoiled by the light leak issues I had so I didn't take full advantage of the best light. David Ward and Phil were playing with the Etive birch trees which had a wonderful blue background as the emerging blue sky coloured the hillside behind a strong blue (whilst the trees remained in shade). I was interested by the snow on the trees so I made this image:
After I made this image, the front had cleared through and whilst it was wonderful conditions to be outside with fresh snow and an almost perfect blue sky, it was rather harsh lighting for photography. I made a couple more images that didn't really work but which were fun to make anyway.
We all reconvened at the hotel for lunch and the general consensus was to head down to the end of Glen Etive to get the late afternoon light. David Ward and Phil were keen to try out the Scoupe, whereas Dave and I thought we would first check out one of our favourite stretches of the valley so we travelled separately. One of the problems of Etive is that every time Dave and I aim to drive down to the bottom we end up getting distracted and once again it happened as we noticed some nice light down the river. I made this image, revisiting a composition I had made nearly five years ago:
It is still not quite right and I learned an interesting lesson about Provia, blue sky and shade as the trannie is sickly blue. I will have to try it again sometime.
Dave and I split up as he wanted to try out the view from the Loch up Etive towards the Buc. I investigated an interesting mossy area of forest - almost like a natural mossery - that we had scouted out and after much pottering about I finally ended up making the image at the top of the page of a fabulous tree stump covered in moss. For some strange reason it reminds me a bit of a mossy version of a Darlek, though Richard Childs says it reminds him of an Ewok. I can see that; either way it looks like something out of a science fiction film and I love the colour.
I also made an image of late light striking the mosses:
Whilst I was enjoying my photography (and days in the field don't get much better than this), I was beginning to really miss my Linhof viewer. As I was pottering around in the grove, I began to reflect on just how important it was to my photographic process. My process is one of construction – by that I mean that when I have an idea I tend to iterate towards the final image, seeking to eliminate the negative elements and focus in on the elements of the picture that I really like. I normally use my Linhof viewer to aid in this process.
I can simulate this with my fingers forming a frame and then migrate to testing out the image with my G10 but I was beginning to get frustrated because of the lack of precision. The Linhof viewer allows me to select the lens focal length and find the precise viewpoint to place the tripod. I can then drop the camera on the tripod and I am away, usually with virtually no need to re-adjust the tripod position.
The G10 viewfinder is almost but not quite 5x4 and several times I was getting frustrated that I was constructing an image that didn't actually work when I setup the large format camera. It was taking me longer to make images then I would like. In places like this mossy grove, time was not a factor. But the following morning, time was not a luxury and things were to come to a head.