Bank Holiday Weekend in the Wolds - Friday
06/06/2010
Friday Evening Image from the recent Bank Holiday Weekend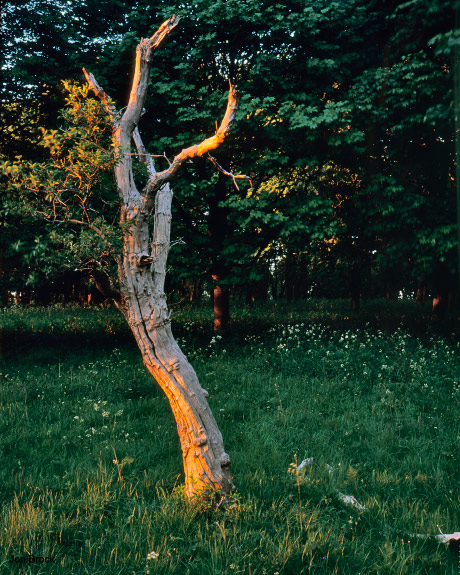 Last weekend was a long weekend in the UK and I managed three trips out to photograph the hawthorn. On the Friday evening after work I went out with my daughter to Millington. Plan A had been to walk up Sylvan Dale but with a very clear sky and the knowledge I would be returning over the weekend with Paul Moon, I thought it might be better to try further up Millington.
Picnic in hand we climbed up onto the tops and I setup a composition that was not really suited to the light. It became clear that tonight was not going to be a Hawthorn night. Eventually I decided that the best opportunity for a strong image would be last light striking a subject and I remembered an old elder tree I scouted out with Paul Moon a few weeks back. Having been out in the wolds last winter at sunset in similar lighting conditions, I had not been prepared then for making an image in the last few seconds of light. I had to resort to digisnapping. I was not going to let this happen a second time.
We made base camp under the tree and I setup. Whilst I was concerned that the tree would be shielded from last light by two nearby trees my 8 year old assured me with complete confidence that the sun would set between the two trees so we ate our picnic as we waited. Paul Moon spotted us from the road and walked up to see us. He had spent the evening down Sylvan Dale and was waiting for his wife to pick him up.
Catherine fell in love with the tree and named him 'Elder Man'. And she was right about the light. Finally, in the last seconds before sunset we got a couple of minutes of sublime light and I made the image at the top.
Addendum: I think this image is a classic case of great light alone does not make a great picture. The composition stinks. I was so annoyed with it that I re-visited it on Monday night and shot the tree in the rain, an image I am hopeful will do more justice to my subject. I also noticed it was starting to flower so I think I am not through with this idea yet...