East Coast Outing
07/07/2012
Images are back from a trip out with Tim Parkin and David Tolcher last Sunday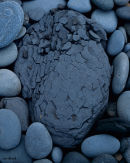 Last Sunday I met up with Tim Parkin and his partner Charlotte at Port Mulgrave. I had arranged to do an interview with Tim for his photography magazine and I thought the best place to do this was 'on-location' so to speak.

Meeting at 2PM at Sandsend, we drove the short distance to Mulgrave. Mulgrave is a location I am very tuned into now and I was buzzing with ideas for potential images I could make.


I started my account with the image above - mostly to get things moving. However with this image made I moved onto something more significant I had spotted on the last trip out here.
I have been playing with the idea of images that are inspired by abstract paintings for some time and was really pleased with this image.
By this stage Tim had also managed to tune in to the location and make an image. As I was wandering back to my camera from looking at his setup, I noticed a interesting set of markings in a post next to one of the boats and I set this image up with my 120 Nikon Macro lens.
I have taken to carrying around a small bag and carrying no more than my 3 standard lenses (3 fujinons: a 125, a 180 and a 240) and one other lens I rotate depending on the location. Knowing Mulgrave I opted for the 120 Macro to help me make lifesize + images.
I returned again to the earlier theme and tackled one of my favourite boats at Mulgrave with this image - a pig to setup.
Particularly tricky as there was a slight curve to the boat and I needed to use the 120 again to help reduce the impact of diffraction as I stopped down.
We worked our way onto the beach as by this stage the tide was starting to go out. Just before we started the interview I spotted the opportunity to make an image of the amazing round rocks at Mulgrave. I had been waiting for exactly this configuration of conditions - shade from the cliff, blue sky and tide just receding - for nearly three years and I quickly went into express mode to make the image - setting up and making the image in a handful of minutes. The transparency lived up to my expectations and I was very pleased.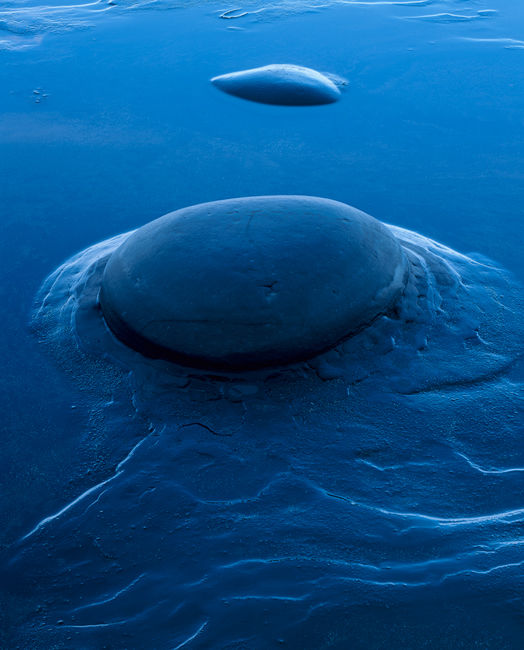 Tim and I did the interview, recorded with the assistance of Charlotte, and we moved on to look at some sandstone rocks that I knew from past experience could yield something interest. However Tim spotted some broken up rocks which were stunning and I asked him if he minded me having a go at them. I was rather pleased with the result.
Tim speculated that they were shattered due to frost damage - it would be interesting to know.
It was around 6.30 by now and we had planned to grab some fish and chips and then meet up with Dave Tolcher in the evening. However unfortunately I became slightly distracted by another potential image. I have been looking for ways of making images balance in unorthodox ways.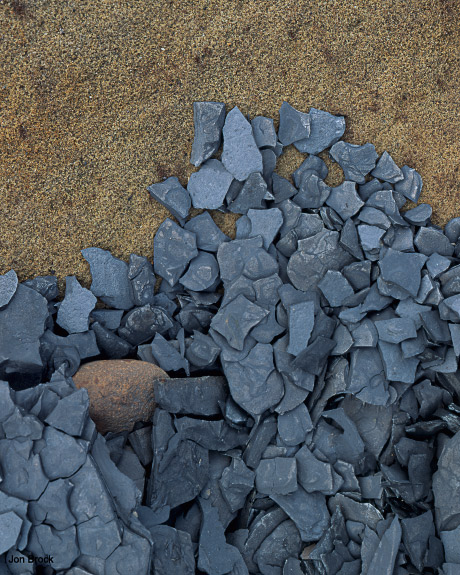 This image made, we headed back to meet up with Dave at Saltwick. We spend some time admiring his beautiful new Arca camera and then as Tim and Charlotte headed for home, Dave and I moved onto the beach. There was the usual possie of Nab shooters floating around but I was most caught be the beautiful quality of light on some lovely seaweed and I made two pleasing images.
Leaving Saltwick to drive home at nearly 10:30, it had been a fantastic and very productive day - 9 compositions in nearly 9 hours and all of them very pleasing.