Day One Torridon
21/02/2018
Picures from day one of my recent Torridon trip
Day One Torridon
It was with considerable excitement that I headed north for our annual Scotland photographic trip earlier this month. With an overnight stop planned in Perth, I met up with Guy Aubertin for dinner and we drove over to Torridon in convoy the following morning crossing the snowy Cairngorms. Dave Tolcher and his son Mark, who had been visiting Glencoe, drove up the western side of Scotland.
The most exciting thing about the trip was that I was back using a view camera again after several years of slow and painful transition to digital. I loved my TK and still have it [a black and white film project is inevitable again at some point] but the convenience, dynamic range and technical quality of the latest generation of digital sensors has proved difficult to ignore. Also I have become seduced by the speed and agility of medium format through the use of my Mamiya RZ67.
I experimented with a number of digital cameras including the Sony A7Rii and the Pentax 645Z but have finally landed in a perfect place for me - the Cambo Actus GFX with 5 brilliant lenses: two Pentax 645 lenses (35mm and 150mm), two Hasselblad CF lenses (60mm and 100mm) and my wonderful large format Nikon 120mm macro lens. All lenses draw beautifully and technically are difficult to fault when shielded properly. The lens coverage for movements is in many ways better than my 5x4 film days and focusing a view camera with Fuji's EVF is transformational. I have so missed using a 'proper' camera and it is interesting to watch how my visualisation readjusted to view camera use during the week - as Dave said, "the foregrounds just got bigger and bigger as the week went on". This setup gives me the flexibility to work in both 'medium format' and 'view camera' mode and is not heavy to carry at all compared to my large format days. I suspect I have finally landed in a place gear wise that will be stable for some time to come.
On the first morning, Guy and I visited Loch Clair first thing, a location I had photographed many years ago experiencing a most surreal dawn as a giant lenticular cloud turned bright red and lit the nearby mountain side with bright red light. On that particular day I made a memorable image
here.
Today, with no wind, it was perfectly still though too clear and I made a nice enough image of the mountain reflected in water that just felt repetitive. As we took in the atmosphere, a small clump of intertwined grasses caught my eye and I was able to give the the Cambo Actus its first run out of the week.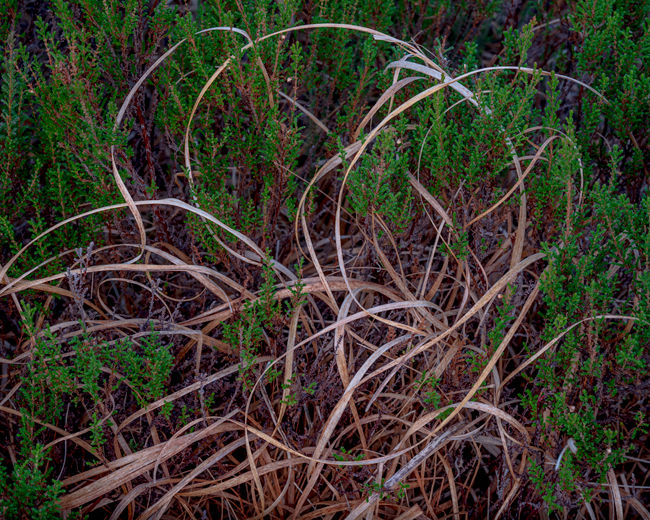 Dave had taken Mark for a day of kayaking and we planned to meet up later in the morning. We commenced our photographic work for the week: there are basically 4-5 roads surrounding Loch Torridon and we started to systematically scout and work each road in turn, exploring what is there and imagining how each location may react in different weather and lighting conditions at different times of the day.
It is a privilege to work with two such strong photographers and friends as David and Guy. We each have very different photographic styles and preferences for subject matter. For example whilst Guy made a 'skyscape' image using a long lens and the the light striking a snow capped mountain (I can't wait to see the print - it looks stunning) I looked to my feet and found some lovely delicate grasses peaking out of frosted mosses which were still, just, in shade. I made the following image using my 120mm Nikon.
As the sun rose, the light became more harsh and photography became more challenging but not impossible. Meeting up with Dave again who had found a wonderful clump of side lit trees I made another image.
By this stage, the light was too harsh and we took a break from image making. We returned to the lodge and I managed to squeeze in an hour of Ashtanga yoga and a cup of tea.
Dave went back to reconnect with Mark. Feeling refreshed, Guy and I explored one of the other roads scouting for opportunities in better light. We stopped for lunch by a small loch and the chance to make another image playing with the trees overhanging the water emerged. The conditions are never too poor to make a decent image - with the possible exception of horizontal rain.
As we scouted, we found several spots that would feature in better conditions later in the week and we got to know one side of Loch Torridon much better. For sunset, the forecast was for some cloud to come in. Guy and I decided to return to a location Dave had found on the way over to Torridon and we had all scouted (and worked) the evening before. The kama generated by my earlier Yoga clearly did the trick and we were treated to an amazing rainbow over the Loch. Stealing Dave's composition from the previous day shamelessly (sorry Dave) I made an image where all the elements just seemed to come together.
With the light fading, I managed to knock off a couple of quick inner landscape images. Setup practice is important when working a new camera. I used my TK for more than 10 years and I could operate it blindfold - the camera becoming an extension of my hands. It will take a little time to get to that place with the Cambo Actus GFX where setup and execution of images are more about muscle memory than conscious thought. The Actus has one smart feature. It is possible to rotate the front standard a full 180 degrees and thus gain a few precious centimetres of rail length to help with macro images. Although I bought a macro rail and bellows, it is looking like I will only ever use the macro bellows as this feature gets me to half lifesize even with the 120mm Nikon LF lens. I made this fun image:
The end of a very interesting and enjoyable first day in Torridon.