Day Five Torridon
01/03/2018
The difficult day
Day five really was the difficult day. We had been photographing intensively for many days without a break and it was becoming difficult to sustain the momentum.
However we persevered. Deciding to work the road between Torridon and Loch Maree, we drove to an area Guy and I scouted on the first day. With the promise of rain showers or at least steady drizzle, there was lots of potential for details. However I was not really tuned into that style. Dave and Guy had been teaching me how to process skies more subtly in Lightroom so I decided to make a couple of images that allowed me to play with that aspect of processing. The first was a simple composition with the standard lens (60mm Hasseleblad CF) stood on a grassy knoll.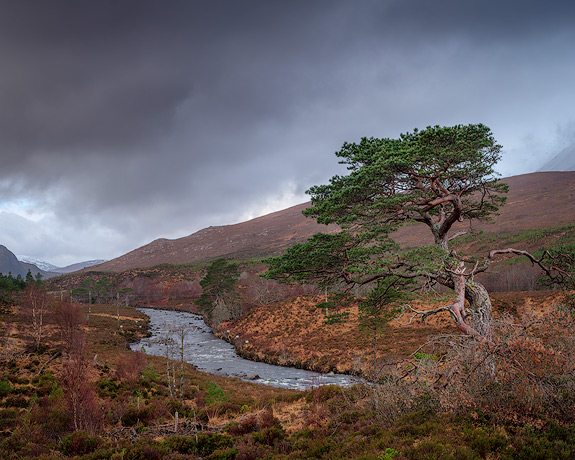 We dallied on the knoll some time watching the weather develop, trying to make sense of a lovely dead tree that was difficult to resolve with the landscape. Eventually I gave up but then spotted the opportunity for the second image as I walked back to the car along the river. With the rain coming down, the clouds were developing into a dramatic configuration and created this scene. More opportunity to work the skies.
We further explored this area in the car and the light began to play wonderfully across the hillside as we gained height resulting in Guy and I regularly piling out of the vehicle to make handheld images. Finally we found an excellent configuration of trees and stumps. I made another GFX image with the 100mm Hasselblad.
We drove over to Loch Maree for lunch. It was pleasant enough but Loch Maree just didn't inspire and we resolved to return to the area we had been working. Just as we were about to leave, I was distracted by some wonderful tree roots looking like tentacles feeling their way into the water and I had to setup another view camera style image. I love the way the roots seem to come out from under the viewers position - as if the viewer has roots reaching into the ground - quite an uncomfortable feeling!
Heading back to the area we worked earlier, the light had gone and we retreated. As we made our way down hill the cloud and rain came in and I spotted a lovely configuration of trees from the car. This time I setup the 150mm 645 Pentax on the Cambo Actus with some rear fall so that the plane of focus could run parallel to the tree trunks. It is such a lovely lens the old 150mm - it draws with a warm tone that has great character.
By this stage we were really done in for the day. Photography had become difficult and felt forced - even if that was more a state of mind than reality. I do in retrospect like the images. We headed back to the lodge in anticipation of one final day of photography to come.