Buttermere day two
04/11/2019
A day spent a 'vistaring', if that is a word....
With heavy rain over night clearing it was looking set to be a day of mostly high cloud and a little more wind than yesterday. As the trees dry, they begin to lose their magic so I was expecting to have to climb higher up the hills to make images. I started in the woods and made a couple of images before it became clear that conditions were far from ideal.
I setup a simple larch detail aimed at my emerging Larch series.
And then I practiced my close up work making a quick image for the Fallen Leaf series. Note to self: bring a polariser!
After faffing around for an abortive third image it became clear I needed to be up higher making vistas so I climbed up onto the hills above the trees.
At this point I made the main image at the top. I was lucky enough to get a superb blast of light and I thought the shape of the entrance to Honester Pass worked well with the superb trees.
I then played for a while with a super tree and set this image up that I was very pleased with. A little swing and tilt allowed me to hold the focus front to back.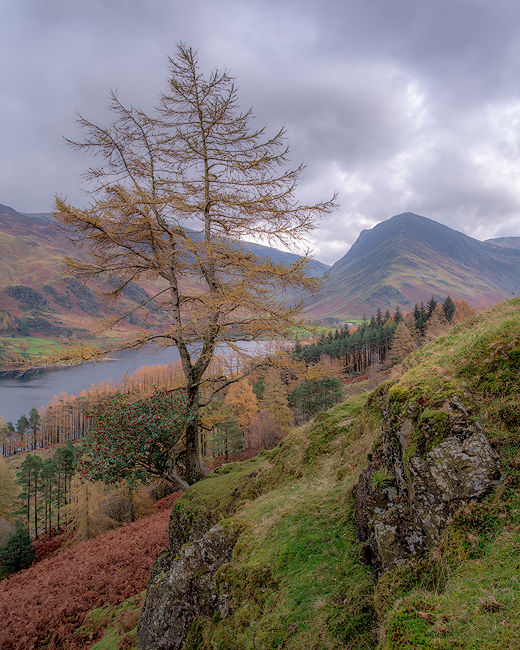 The tree was such good fun, I played with it for an hour or so setting up two further compositions however those are rather too embarrassing to post!
Ready for a cup of tea I headed back to the hotel and grabbed some lunch.
* * *
I had walked the hills in the Lake District for many years before I put my efforts into photography including walking all the Wainwright fells, many of them several times. Over lunch, I remembered one of my favourite lower level hills and headed out. In my twenties I concentrated on the top 1/3rd of the mountains in the Lakes. When it comes to making images however I need to concentrate on the lower 1/3rd. I played around for a couple of hours setting up medium format style and large format style images using the rocks.
The first sensible image was this one looking down over buttermere.
As I was walking up the hill, the bizzare configuration of paths behind me caught my attention and I made this fun image looking back towards Robinson.
Finally with the light beginning to fade, I made another image looking over Crummock Water towards the sea.
Another excellent day.