2020 Sabbatical
23/08/2020
I have started a six week sabbatical to photograph the Yorkshire Wolds
On Monday 20th July I started a much needed and appreciated six week sabbatical to focus on photographing the Yorkshire Wolds.
I am out almost every day and will be posting one image a day here, though that is inevitably coming in batches!
Day thirty five (Sunday): 23rd August
An excellent dawn outing with Paul Moon again. At dawn we were rewarded with full on mist which I managed to put to good use.
Day thirty four (Saturday): 22nd August
More storms coming through saw me rework an old favourite valley and then visit my current favourite valley again. I scouted out this composition months ago and with this image it is much closer to its final realisation.
Day thirty three (Friday): 21st August
I drove back from Nidderdale and didn't get out because the wind had risen to epic proportions - the first of the big named storms to come over this season.
So here is another time travel image - executed for the first time on Wednesday morning but improved a few days later in similar but even better conditions.
Day thirty two (Thursday): 20th August
A change of scene today. I headed over to Nidderdale to spend some time with Dave Tolcher. We had an amazing afternoon and evening session photographing the heather in its absolute peak. I will break from my usual approach and post three pictures from the day. Shooting with the technical camera, I took out my trusty Light and Land (really Joe Cornish/David Ward) designed Paramo dark cloth which more than justified its weight in the bag. I nailed the focus on every shot.
Firstly in the late afternoon light I made use of this lovely wall on the right.
Then I had a go at some rocks I saw on the walk over.
Finally I couldn't resist a detail of the heather as the light began to fade.
A change of scene (and colour palette) was very welcome. But more than that it emphasised how enjoyable and rewarding working with other photographers can be both in the field and in the apres photography discussion afterwards (aided by some excellent wine and equally excellent Risotto cooked by Dave). Talking through some prints and discussing photographic ideas with a fellow experienced photographer just can not be beaten and I have missed it over the last few difficult months.
Day thirty one (Wednesday): 19th August
An awesome dawn session in my favourite valley at the moment seemed to keep going on and on as the conditions developed. I went from pre dawn clear conditions to full on mist to clearing mist to storms in an epic four hours of photography. Here is a later one as a storm went through.
Day thirty (Tuesday): 18th August
No photography today but with the benefit of time travel I can post an image scouted on Monday from one of my favourite valleys (and I got quite close to this) but fully realised a few days later. Amazing storm cloud conditions.
Day twenty nine (Monday): 17th August
Last week was dominated by heat and clear conditions. This week was going to be about storms and clouds crossing the Wolds. After having worked a favourite valley for a couple of hours, I was heading back home when I noticed some awesome dark clouds developing. A quick scan of the rain radar showed a massive storm on its way from the south east. So I drove back up to the wolds and as I was driving past this valley I remembered this view - scouted years back but never executed. I would be facing the storm with the sun out behind me. So dressed in full storm gear (in the heat LOL) I was in place for a few minutes of epic light before the deluge!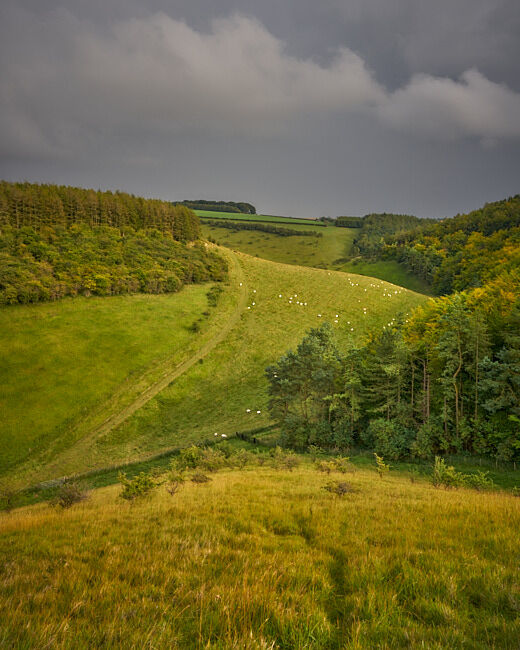 Day twenty eight (Sunday): 16th August
Unable to meet up with Paul this sunday I did go out with the Cambo Actus to Millington in the rain but didn't really come back with anything I was happy with. So here is one in the rain from there about two weeks earlier that I was happy with. I was trying something a little different with the trees.
Day twenty seven (Saturday): 15th August
I have scouted out quite a lot of the Wolds now from South Cave to Flamborough. In addition to the areas I already knew well, there are some areas that inevitably draw me back again and again and as I get to know them better they seem to yield more and more pictures. One from the first week in just such an area.
Day twenty six (Friday): 14th August
I did make it out and had a very enjoyable day in Fairy Dale with the Cambo Actus, though not as successful as I had hoped. With the bright light I struggled to focus accurately and I resolved afterwards to bring my old Light and Land dark cloth back out of retirement! So here is one from the Cambo Actus from Tuesday morning taken in the last moments of shade.
Day twenty five (Thursday): 13th August
I didn't even try to get out today given the circumstances (due to my daughter's brilliant and well deserved deserved A level results) so here is anther image from a couple of weeks back - one of my first black and white images of the Sabbatical. The slacks often look good in black and white with the graphic shapes and (with the right light and valley) tonal variation.
Day twenty four (Wednesday): 12th August
With the heat and conditions it was difficult to make images. I did try but the promise of morning mist never really materialised and it was blazing heat and clear sky by 7.30am! So here is anther image from a couple of weeks back. There are several deserted medieval villages in the Wolds, the most famous of which is Wharram Percy. Here is the remains of the church.
Day twenty three (Tuesday): 11th August
I made it out early and as I was driving through Millington I could see some superb early morning light developing. So stopping the car in a place I don't normally work, I found this composition using the side light.
Day twenty two (Monday): 10th August
I met up with my parents today - no photography. So here is another one from Sunday. With the Cambo Actus again.
Day twenty one (Sunday): 9th August
Another excellent morning with Paul Moon. We visited a valley we have both enjoyed for many years and I made an image with a favourite tree and the wild flowers on the side of the valley. It was good to use a view camera again. Now the ratio of scouting to image making is reducing I hope to be out with the Cambo Actus GFX more often.
Day twenty (Saturday): 8th August
A day of rest and F1 watching. Here is one from Friday. The landscape is gradually being cut and hoovered up as farmers work their way round all the fields. I found several fields where the straw was being piled into bails. I liked this one.
Day nineteen (Friday): 7th August
I went hunting for better light in a location I had scouted on Thursday on the way to the coast. I was lucky enough to get a couple of showers going through, though sadly because of my position they were behind me not in front. I was fairly happy with this one, though I may give this composition another go with slightly better conditions.
Day eighteen (Thursday): 6th August
A day spent out at the coast. The area of land where the wolds intersects with the coast is really interesting. One minute you are walking through classic wolds scenes and then suddenly you encounter huge white cliffs. This is one image I made just as a front was clearing through. I got some superb light for 10 minutes or so before I was bathed in blue sky and sun.
Day seventeen (Wednesday): 5th August
I went scouting on Wednesday checking out more views and valleys. Here is another image from Monday in a valley I struggled with in colour, mostly because of its scale. I think this works in black and white. The timing of the spotlight was key to this image.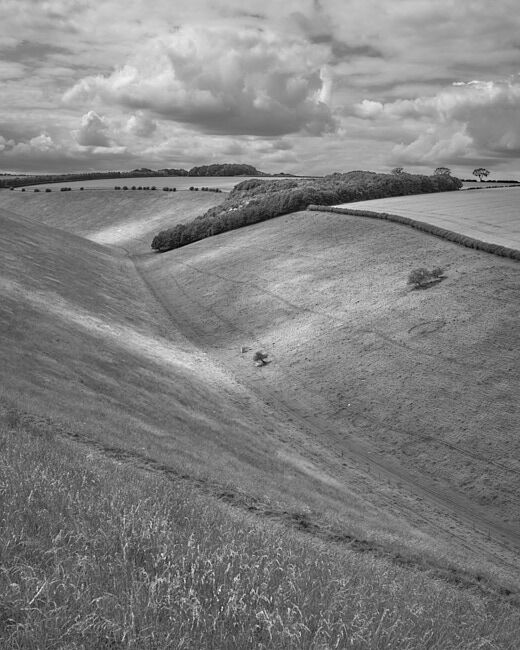 Day sixteen (Tuesday): 4th August
Finally got chance to meet up with Dave Tolcher again for the first time since Torridon - which feels like a generation ago at the moment! I took him to a favourite valley I shot in mist a couple of weeks back. The position of the sun had changed sufficiently in those two weeks for the anticipated lighting floor show not to start before clouds robbed us of the sun. But just before the sun went for good and as the cloud built up beautifully behind we got some lovely soft light. It gave me a chance to shoot a second image I had scouted with Paul Moon. It was good to get at least some of the 'brothers' back together again.
Day fifteen (Monday): 3rd August
It turned into a bit of a black and white day. I am slightly schizophrenic about whether the wolds is a black and white or colour project for me. It is probably both. But today was definitely black and white!
Day fourteen (Sunday): 2nd August
Another quiet image from Monday this week. I also had another excellent photograpy session on Sunday morning again further scouting out my favourite valley at the moment - lots of potential images to shoot on another day.
Day thirteen (Saturday): 1st August
Earlier in the week I headed out for dawn to a valley I had scouted the week before. It was about a 40 minute drive and as I arrived on site I realised the light was going to disappear very shortly. I sprinted with the gear across the path and arrived at the location with seconds to spare. Fortunately I had the image already scouted so I setup and had 20 seconds of light before the sun went for the morning. Too close for comfort!
Day twelve (Friday): 31st July
As we enjoy a mini one day heatwave, it is too hot and too clear a sky for sensible photography in a dry chalk area. So here is one from Tuesday this week. A favourite Wolds valley for me.
Day eleven (Thursday): 30th July
I avoided shooting black and white during the first week of my Sabbatical because I needed to de-program myself having shot black and white for months during the lockdown. But on Monday I relaxed that and made a first black and white image.
Day ten (Wednesday): 29th July
A minor electricity circuit crisis meant today was the first rest day from photography since I started. I am itching to get back out again! But it did allow me to catch up here and post a few more images. I realised that although I had taken many images in the dry wolds valleys over the last few days (in the 'Slacks' as they are called) I had not really posted any pictures of them.
So here is a very typical Wolds July scene from yesterday (Tuesday). A narrow twisty Wolds valley, trees in the bottom and wild flowers on the hillside. Sheep are grazed in the valleys and crops are grown on the tops. In this case there are sheep in the distance on the valley floor.
Most people drive across the wolds and completely miss these valleys only seeing gentle rolling hills. In fact most people assume the Yorkshire Wolds are basically flat! Far from it. Normally invisible, they appear suddenly in front of you when you walk across the many bridleways and paths - TARDIS like in fact. The main roads usually miss the valleys so unless you actively seek them out they are rarely seen. There seem to be countless numbers of these dry valleys often radiating out as spurs from a main wider valley like branches on a tree trunk. The Millington, Thixendale, Warter, Huggate, South Cave, Fridaythorpe, Cottam, Fordon networks of valleys are all classic examples. They are carved into a 'v' shaped band of chalk that runs from around the Humber Bridge at Hull and Beverley over to York (dropping down to the vale of York on the western edge around Pocklington and Bishop Wilton ) before heading back north and eastwards again and meeting the coast between Flamborough Head and Filey. This area is my playground for the six weeks of the sabbatical.
Day nine (Tuesday): 28th July
After getting drenched on Monday afternoon in Millington in an incredible squall shower that went through, I noticed it was clearing through. So I headed out to a long scouted composition and waited for the right combination of spotlights and clouds in the background. I have never managed to find the right combination of conditions and light here on all my previous visits. It was an 80 minute wait but it was worth it and there are far worse places to sit peacefully contemplating the epic beauty of the Yorkshire Wolds.
Day eight (Monday): 27th July
Having spend a whole week walking, scouting and dashing to be in the right place at the right time for the conditions and light with my Sony A7R iv (I call this Yang photography), it was time for a little quiet peaceful work with my technical camera and traditional large format lenses (Yin photography). So in the rain I headed out to Millington again to photograph with my GFX Cambo Actus and it's excellent standard lens the Actus 60mm. Bliss.
Day seven (Sunday): 26th July
A great Sunday morning out with Paul Moon. We had scouted a dawn image the week before and when we arrived at 6 am we were treated to a glorious mist. It was a case of find a foreground for the composition and try to imagine what the mid ground and background looked like from the previous week! I waited for the outstanding tree that I knew would be at the top right to just be visible out of the mist before I pressed the shutter. A super morning out as always.
Day six: 25th July
An image made on Wednesday at Thixendale. A great place to wait for the light and watch the world go past at a much slower pace than normal.
Day five: 24th July
An image made on Thursday night on a brief outing to 'Hobbiton-in-the-Wolds'! The end of an epic first week Sabbatical.
Day four: 23rd July
Today's image was made on Monday evening again. One of the most unique features of the Yorkshire Wolds are the 'slacks' or dry narrow valleys. Slack comes from the old Norse word
slakki
. They are very hard to photograph from the inside/bottom looking upwards though I will have a few goes over the next few weeks. This is one from the entrance and side looking down - often an easier place to work.
Day three: 22nd July
Today's image was made on Monday evening continuing the theme of crops and a tree. This tree is superb and the light was even better than the night before. For the second day in a row it cleared out just before sunset, always an enticing prospect. It will make a nice companion to the previous image. I often find that images come in pairs in quick succession. I have also been working the valley's in this part of the Wolds so will get round to posting some of those images soon.
Day two: 21st July
One made late on Sunday evening. The evening light is stunning in this particular part of the Wolds at the moment. Feeling blessed to be out in such a wonderful landscape at such moments.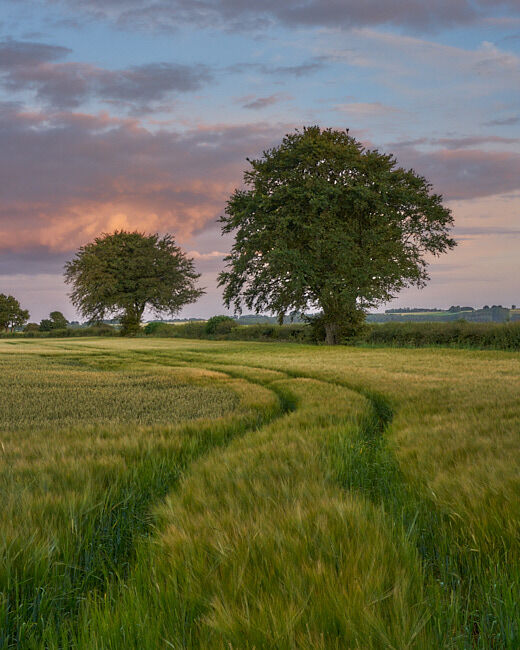 Day one: 20th July
An image made early on the morning of Monday 20th. An excellent way to start - the field patterns are epic at the moment in the wolds. Weather permitting, the crops should start to get cut from the middle of this week.