Robin Hoods Bay
06/12/2008
Images from a trip to the Bay with Dave Tolcher
I have been struggling for a while with how to display my most recent images. I experimented for a while with a separate gallery, however it quickly became annoying to keep adding and then deleting images. If I didn't delete, the gallery got too big. So I have turned to the blogging craze as a way of posting the pictures.
Two weekends ago I spent a couple of days with Dave Tolcher in Robin Hoods Bay. The weather forecast was looking promising in the week leading up to the trip with a big dump of snow likely on the Friday night. What I hadn't expected was the wind.
We spend the Friday morning out at Thomason Foss. This must be my 5th or 6th visit to this great location. I re-took an image I had made earlier in the year from a slightly different angle, which to be honest turned out to be a pretty weak effort. The balance was all wrong.
I played around with leaves, finding a really interesting pool, covered in water droplets. However, once again the image didn't really live up to my expectations. The trannie is fantasic in terms of colour and sharpness (you can see each droplet) but I feel the composition is only average. When I reviewed the image I made a mental note to try something similar again, but dominated by a clearer, larger subject – more like my 'holding out' image in the inner landscapes gallery.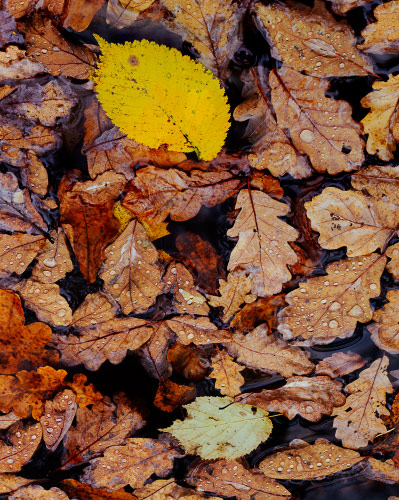 I then tried something a little bit more experimental which I am much happier with – 'The Pool' – and I have added it to my key [66749] doesn't exist
Inner Landscapes
gallery.
I was attracted by the relationship between the moving water and where it forms a rapid. I pre-visualised how the water would point down into the pool. I do make a point to keep pushing myself to try different things when I am out.
Later in the afternoon we visited Staithes – the location of a very famous picture by Joe Cornish. However the wind ended up being disastrous. I had a couple of goes with the large format camera but an image with loads of potential (there was a fanstastic storm out to sea) was spoilt by wind movement. The lesson I take from that image was to use the right tool for the job – in this case something that wasn't a wind tent! By the time I got back to the car, I could barely stand up in it.
The following morning the snow fell and after a short and entertaining drive around the moors, we walked down into the bay. We both had go at 'sunny place' in the snow but for me ultimately the lack of sky detail annoys me. I should really have looked for a composition with the sky eliminated.
We went on to the beach. Dave was shooting digital and had gone on to the beach a few minutes before I did. When I made it down, it was quite odd to see such a familiar sight look so different under several cm of snow.
I had a go at one of my favourite themes – the view down to Ravenscar – an image I am fairly pleased with, though I don't consider it to be a classic. I much prefer my
previous effort.
After an excellent breakfast at the café at the top of the hill (why does breakfast taste so good after a morning's photographic session?) I took my leave of Dave and travelled up to the Hole of Horcum, dodging the two wheel drive cars stuck in the dip at Sleights.
The Hole is a spectacular natural feature that I have walked several times. I made an image of the hole using a composition I have had my eye on for a while but was slightly disappointed with the result, as I almost always have been with vistas when there is a significant amount of snow on the ground and the sky is gray.
Conclusion: The wrong light for the image is still the wrong light even when the conditions are snowy! Next time I think I will concentrate on details in similar conditions.
I decided to walk over to the Bridestones. This is a place I walked many years ago and I have had on my radar for some time. The walk from the Hole of Horcum turned into a major expedition, as the conditions turned into a blizzard. I had about an hour to play around before I knew I would have to start the walk back and ended up with about 20 minutes of shooting time between major downpours of snow.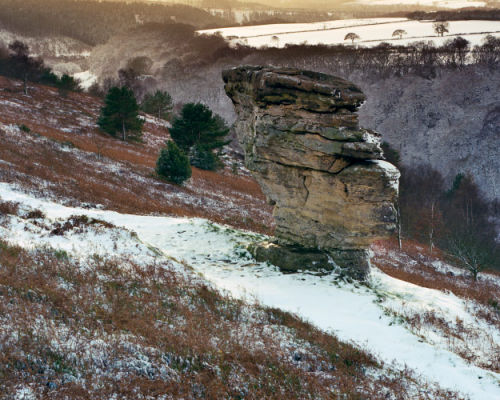 The wind was still very strong and both images were ultimately spoiled by a slight camera movement. The first image is cropped to remove the sky. I took a trannie and colour negative – a practice I have incorporated into my technique for more complex lighting conditions after I saw some of Julian Barkway's pictures on a recent workshop.
I just had time to recompose and fire a second image off as the storm came in. At that point I was forced to pack up and return as I had estimated I would need about an hour and 15 minutes to get back to the car and I wanted to make it back in daylight.
However, as I was walking back I realised my lightmeter was still set on 160 (from the previous colour negative image) and I had just shot Velvia 50. 1 and a half stops underexposed on Velvia is lot of black!
Annoyed, I chatted with Dave afterwards and he suggested asking Peak to adjust their processing to compensate. I sent the image off separately and was quite surprised by the result – technically just about passable.
I really like this rock tower as a subject and will return to develop the theme in more favourable conditions.