Glencoe, Day 4
21/02/2009
The day it finally snowed
Wednesday, 4th February
There was no opportunity for a dawn session once again. However this time it was because at last it was snowing. After breakfast, we stepped out for a walk in the streams at the back of the hotel and very quickly I decided I would want to make some images.
Last time I had been out in snow, I had passed the opportunity to make some images of snow details and I wasn't about to do so again. Taking a brolley, we headed out to re-visit the area we had been the evening before.
Despite it being freezing cold and snowing heavily I made a couple of images. The first was a close up of grasses. It needed Dave to hold up the brolley over the camera as I was very close to shooting into the wind.
The second image was facing away from the wind so I didn't really need the brolley. I found a fantastic erratic close to the path and that had been my initial idea for a subject, but it was the superb curving grass just in front of it that caught my attention. I stopped to make the image whilst Dave went back to the hotel to dry off and warm up. I employed a trick I had recently picked up for just these conditions. I placed a filter on the lens as a protector which I could allow to get covered in snow. Just before I pressed the shutter, I removed it to reveal a dry, clean lens.
Back at the hotel I had to spend an hour or so drying off my techie. Because I had pointed away from the wind, the back had got covered in snow and water had leaked between the fresnal and ground glass. The fresnal needed to be removed and dried out.
By lunchtime, it looked as if the snow was beginning to ease off and we decided it would be perfect conditions for photographing the birch trees in Glen Etive. When we arrived, it was clear the conditions were superb and we both made images. I chose to shoot my image with a
parallel film back
. It took quite some time for me to find a composition that I was satisfied with, but I got there eventually.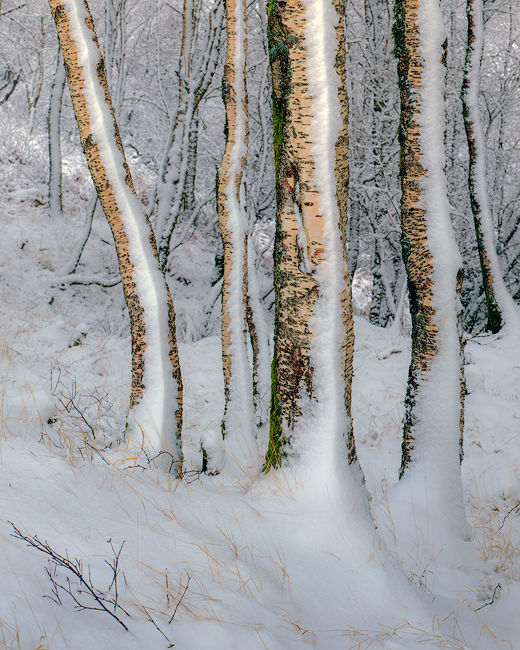 Exhilarated, we headed down to the deer enclosure realising that these could be the perfect conditions to photograph the trees we had found a couple of days before. Whilst I was setup on my first image, Dave made a great image of me in full flow with his Canon G10 which is at the top of this blog entry. The G10 is a superb little camera - the first time holding a compact digital has felt like holding a real camera to me. The results are superb as well - having seen the quality of the full JPG of the image he let me use, I am sorely tempted - particularly as my Ricoh is playing up.
The conditions from a few days earlier couldn't have been more different. I've included the original trial composition taken a couple of days before as a comparison. The image I made is almost entirely monochromatic with the exception of a slight colouring in the tree.
I then had a couple of goes at Dave's favourite tree, a tree that had a superb rock at its base. Firstly with a 450 and then with my 240. I prefered the 450 image.
Neither, I think, topped Dave's
interpretation
, which I think has a lovely sense of space.
By this stage, the snow was coming down quite heavily again and it was getting late so we headed back to the hotel for tea and scones.
Once again I had to dry the techie and tripod down otherwise tomorrow morning they could both freeze. Satisfied with an outstanding day of photography, we reviewed the images on Dave's G10 and I began to get that feeling of anticipation that is peculiar to film users. It sounds perverse, but it is one of the main attractions of shooting film.
And we both imagined a perfect Thursday dawn of a pink Buc rising above a frozen waterfall.