Day two Northumberland
10/04/2009
Day two from the recent trip to Northumberland
We were not inspired to get up for dawn the following morning. Not only were we tired from the long day before, but a quick look out of the window revealed a completely cloudless sky.
Having finished breakfast, we decided to scout the beaches between Bamburgh and Dunstanbugh Castle. A short distance south of Bamburgh we walked on the beach and I conceived an image born out of the very difficult conditions.
I remain fascinated by the grasses and I am sure I will develop them as a subject on subsequent visits.
Further down the coast we found a beach with some interesting rock details. One particular rock platform had some really interesting patterns that seemed to resemble a tree. I made an image, hoping to make use again of the bright sunlight.
As I moved closer to the water, the patterns become even more interesting. I had to consider them for quite some considerable time before the following composition occurred to me and I setup.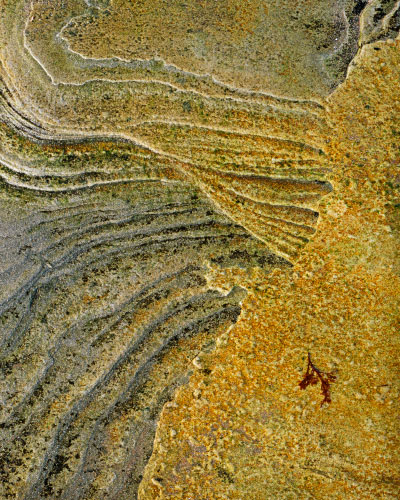 It was a glorious day without a cloud in the sky and quite warm for the first week of April but whilst these are great conditions for the visitor, it makes photography very difficult. By late morning the lighting had become far too bright and with no cliff faces to find some shadow we retreated to the car and drove further down the coast.
We visited Newton Point which had a wonderful Jurassic landscape which I think will prove interesting to photograph in better conditions. Having lunch in an interesting pub, we park up and walked over to Dunstanburgh Castle. I had a vague plan to scout out the area in preparation for a sunset image but I wasn't hopeful – not only was there still not a cloud in the sky but there was clearly a bank of sea mist out to sea. Speaking to a friend I discovered that Norwich was still shrouded in mist.
We walked onto the beach and sat for a while looking at the castle. After some time we noticed some magnificent white lichen on the rock and I spend an age trying to find a composition. In truth the conditions were so bright that I was pretty sure I could not pull the image off.
However a break and a chocolate bar later I finally noticed a composition I felt I could work with. I setup and planned to ask my father to shield the composition. However I could plainly see his reflection in the water and was about to give up when suddenly the sea mist descended on us. Within minutes, the castle was gone and we could barely see beyond a few feet. I grabbed a sheet of Provia and made the image.
It was obvious that the mist was very unlikely to clear and it had suddenly become very chilly. My father needed to leave by mid afternoon anyway so we decided to call it a day. It had been a magnificent couple of days and I had forgotten how much I enjoyed making images from nature's patterns. I was so inspired when I got back home that I wrote an article the following weekend on
patterns in the landscape.
I think Northumberland is a magnificent county and I for one can not wait until my next visit.