Horcum again
05/10/2009
Another go at a difficult location
A few weeks back I got a another opporunity to make an image at the Hole of Horum.
For those who don't know the area, the hole is a stunning natural feature on the North Yorkshire Moors, easily accessible from the Pickering to Whitby road.
It is a stunning place, but very difficult photographically and I have never been fully satisfied with any of the images the place has yielded to me as yet. I got a chance to give it another go a few weeks back as I was driving over to see Dave Tolcher and his family one Saturday evening. I noticed some excellent raking light as I drove over, so I pulled up into the car park and tried out a composition I had looked at before.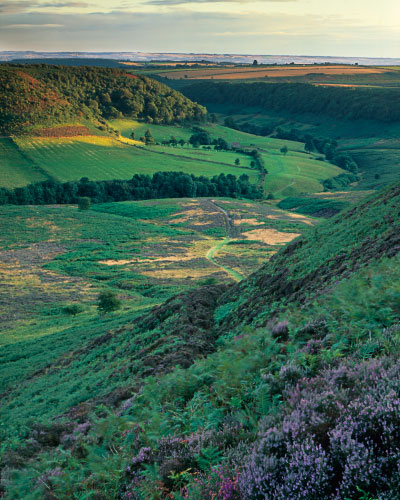 I quite like the subtle lighting in this image.
The following morning I did a dawn with Dave at Stoupe. In truth it wasn't good light, especially as there were no clouds. I didn't feel motivated to make a dawn image. I tried a shot back towards the Bay and a detail, neither of which frankly do much for me.
Like many other large format photographers I am currently suffering from a shortage of Velvia. I am down to my last box with little prospect of picking any more up before mid November, after my week in the Lakes on the Light and Land Advanced Large Format Workshop. Looks like I'll be shooting a lot of provia in the next few weeks.
Last weekend I had another run out on the Yorkshire Wolds with Paul Moon. I thoroughly enjoyed it. It is funny how a few months gap has somehow helped me come to terms with how I would like to approach photographing such a challenging area. I made 3 images and will send them off tomorrow so hopefully I will have some images to publish by the weekend. Fortunately it was a day well suited to Provia...:-)