Back from Glencoe
07/02/2010
Just got back from the Glencoe Trip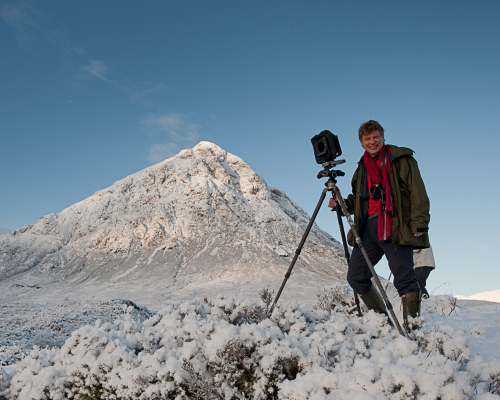 I've just got back from a magnificent week in Glencoe. The conditions were simply perfect for virtually the whole week with only one afternoon affected by bad weather. Phil Malpas, David Ward and Joe Cornish were on holiday for the week so together with Dave Tolcher (and a few guest appearances during the week), the company was also perfect. In addition, my pool skills seem to have improved, thanks to Phil's coaching, though I will only be able to play on a table with a slope down to one corner...
Dave Tolcher took the above picture at the top of Glen Etive. For once I'm not photographed looking under a dark cloth, although I'm not sure that this is particularly an improvement. The discerning photographer will also notice that my camera is pointing away from the 'Buc', though I am having to hold on to it tightly to prevent the tripod from from spinning round magnet like to face the other way. I think it is something to do with the constant placement of metal tripods into the same tripod holes creating a localised magnetic field. Anyway, I was packing down after having made an image of Stob a' Ghlais Choire.
This is the G10 sketch of the image I was making at the time. The LF image will probably have different (probably poorer) light as the front cleared through and the sun got up just as I was setting up.
I shot almost exclusively on sheet film using Double Dark Slides so I consider the transition from quickload to be almost complete. After a few goes, loading and unloading film is quick, painless and second nature. QL only got a look in when I felt I needed to make a 'B' image. The final stage will be to use sheet film for the 'B' images.
I am totally comfortable with DDS's now and I think they also have many advantages over quickload, not least the cost. The pictures will go off to Peak this weekend and I will blog them when they get back.