The Lakes Day Two
12/11/2011
Finally making it to the Lakes...
After a pleasant breakfast we set out to make the short drive into the lakes. Approaching from the southern lakes, I decided to head straight for one of my favourite valleys, Langdale.
Parking up we strolled along the river and after a while I finally set up a composition, making the image above.
I was particularly attracted by the silhouetted tree and it continued a theme of making images work with straight bold lines - an idea that I have been working on for some time (lines with both with the tree and the water).
Pleased with this idea I wandered into the woods to explore. Being rather damp, a number of the rocks had become completely covered in mosses. Attracted by this I had a go at one of the rocks, though the result is a little tight round the edges thanks to the V700. It will need a drum scan I think.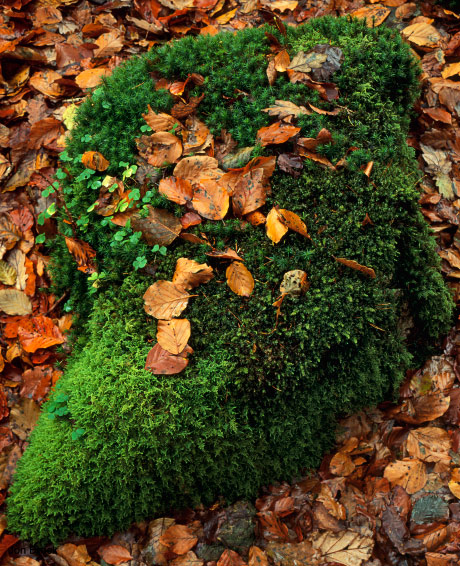 Feeling hungry, we headed down the valley to the old dungeon hotel for a half and a soup. Many times I have come down from the Langdales, Bowfell and the Crinkle Crags straight into the bar for a well deserved pint.
We decided to explore the river around the Little Langdale area and I found a couple of compositions for the afternoon. Firstly I continued the theme of leaves over water; though perhaps pushing it about as far as it is going to go.
I think it is time to bring this idea to an end now. After a lovely stroll along the river, we found a fabulous wall and path that I thought might occupy me for a while - more for the technical challenge then anything. I decided to set up composition four.
The focussing was a nightmare calling for a carefully controlled swing and a very long exposure in the rapidly retreating light - nearly 2 minutes in all!
Just long enough to render invisible the walker who chose the exact moment I pressed the shutter to emerge from the distance walking towards the camera...
With the light fading we headed up to Keswick, our hotel and a rather excellent curry. Another perfect day.