Day one Northumberland
09/04/2009
Day one from a two day trip to Northumberland with my father.
I have been working up in Newcastle recently and I managed to get a couple of days off with my father in one of my favourite places, Bamburgh in Northumberland.
Arriving just in time for sunset, we immediately headed straight for the beach. I have always been fascinated by the grasses and I found an interesting composition relating them to the castle and beach. I had planned for the grasses in the immediate foreground to be lit, but layers of cloud kept the sun hidden until it had fallen too low. When the sun came out, I decided to make a reference image anyway; however I was quite surprised and quite pleased with the result. I think the mid ground lighting has helped to add some depth to the image.
The following morning we made it in good time for a predawn, but similar layers of cloud were hanging out to sea and it became clear that we would get very little direct light. As the sky was progressively colouring, I looked for composition out to sea and setup in wait. In the end we got about a minute of light between the layers of cloud and it created quite a dramatic result. I have almost never made a large format image directly into the sun, but in this case I think it works well in the context of the composition.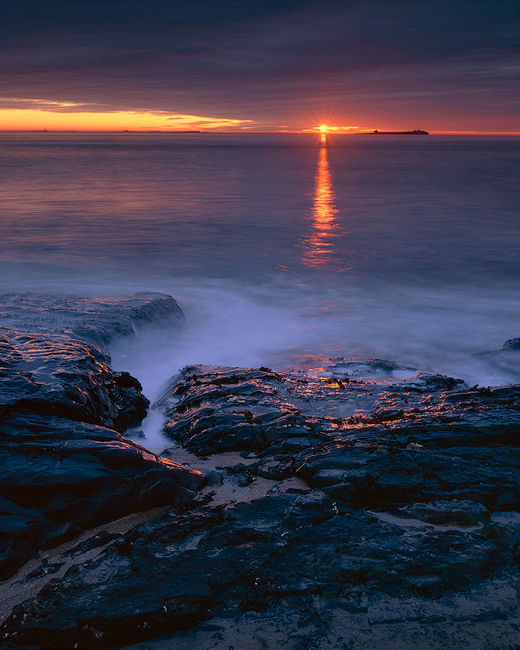 We planned to get over to Lindisfarne as soon as possible straight after breakfast. Driving up the coast, we arrived just in time to be amongst the first cars to make the crossing as the tide began to fall. By 10, we were parked up and had walked over to the harbour. There was still plenty of water in the harbour and I found an interesting composition involving an anchor and boat.
However my recent trouble with dogs continued as I made the mistake of throwing a piece of rope for a dog that paddled up to us. I had assumed it belonged to some people walking nearby but it didn't and as a result we now had it attached to us like a limpit. Having got setup, the dog parked itself in the middle of my image and dug its feet into the sand. As a result, I have had to clone out a couple of dog footprints.
We progressed onto the harbour and I found an interesting composition amongst the crab nets which I setup. However the diffuse light was going and in the bright sunlight I could only make a reference shot. The dog wouldn't leave us alone and at one point it stood on the end of the pier, lit dramatically. I nearly considered pressing the shutter and capturing a Barney moment, but good taste and sanity prevailed and I shooed him away.
At this point, disaster struck, my light meter battery failed and of course I did not have a spare. So I had to dash back into the village to pick one up leaving my father to photograph some of the fantastic huts just above the beach. On returning to where my father was sitting on a bench, my eye caught the most magnificent padlock on one of the huts. It was covered in cobwebs and I couldn't resist an image.
I had considered asking my father to shade the door from the sun, but I decided that the shadow cast by the padlock added a dimension to the image that helped to pose the question of what is behind the door. I am very pleased with the result, though I want to make it clear to David Ward and David Whistance that in no way am I getting in to windows and doorways. It was just this once and I can handle it…
We walked over to the beach on the far side of the castle and I tried a couple of compositions that didn't really work. However under the castle I found this image.
By this stage it was lunchtime and we walked back to the village for a bite to eat. I had intended to scout around Budle Bay in preparation for sunset, so we drove back to Bamburgh and walked round to the bay. I had never worked the area beyond the lighthouse before and was not prepared for how magnificent it was. I found a couple of detail images in the cliff face.
The first was this one:
I was attracted by the magnificent lines and the composition seems to work for me.
I then noticed the waterfalls of sand and tried this rather strange image.
I can't work out what I feel about this image; it is simply weird.
By this stage, the cloud had come in quite heavily and there was obviously no chance of a sunset. We scouted some more and I found a number of images I would like to do in the right light but it was time to call it a day. And what a day it had turned out to be. I think I made more images in one day than I would normally make in three - very satisfying.